This post is also available in: العربية (Arabic) English (English)
One of the tragic most incidents showcasing the mental barrier between friends took place almost a week ago. A young boy who hailed from Gujrat drowned in the Jhelum River due to the negligence of his friends.
The 19-year-old Ali Abrar was on a trip to Abbottabad and its surroundings with 5 friends, running from the difficulty of life and cherishing adulthood's adrenaline. Ali's friends had bet him Rs 15,000 and a mobile phone for jumping and crossing Jehlum River.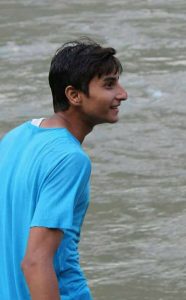 His friend kept filming him, but with a guilty conscience, Ali's friend started to realize that something had gone horribly wrong. In the background, you could hear people screaming for help, as Ali breathed his final. Nobody was able to save him because a river is meant to be stayed away from, not jumped in.
After 5 days, Ali Abrar's body has finally been recovered from Patan area, near Kohala. Bakaut police, on the day of the incident, arrested his friends; Usama, Zeeshan, Talha, Rahat, and Shoaib. A case was registered against them under the CRPC Section 322 on the complaint of the deceased's father.
Ali's body has been taken into custody by the police and after postmortem and legal formalities, it would be transferred to the deceased's family. While Ali's family grieves on his death, loved ones of his friends are also caught in a dilemma of how things would work out for their boys.
Ali's death is a tragic reminder of the fact that one must choose their friends thoroughly and wisely. Young blood gushes at the thought of a challenge but not every challenge is worth accepting. If the incident was not caught on camera, people would have different theories about how Ali jumped or fell in the river, blatantly disregarding the fact that his friends played a vital part in the unfortunate event.