This post is also available in: العربية (Arabic) English (English)
Wing Commander Abhinandan is making headlines yet again and for reasons that will make you laugh. Let's rewind, on 27th February, Indian jets violated Pakistan's airspace and our brave and skilled airforce pilots downed two Indian jets and captured one Indian pilot, who was none other than Abhinandan sb. He was being thrashed by the locals when Pakistan army intervened in time to save him from the 'chittars' that must've left him in a bad condition.
So far, being taken down and captured isn't anything dignified nor is something to be proud of. But Indian media, journalists and their awaam was praising him as a national hero. We laughed then and we laugh now.
A new viral video is making rounds on the internet where Abhinandan reunites with colleagues, cheered and welcomed
Nothing new here, Indians are delusional as ever.
Welcome back Fighter?
Wg Cdr Abhinandan Varthaman has been discharged from hospital,declared fit to resume duties.
Buddy,Best Wishes,Fly high and fly with same passion and fighting spirit..Cheers?
Jai Hind?? @IAF_MCC pic.twitter.com/kTzHJacRkO

— Major Surendra Poonia (@MajorPoonia) May 4, 2019
'These pictures are not for you, but for your families', says Abhinandan
Wing commander is seen requesting everyone not to take any more pictures with him, like a celebrity and to our surprise, the men are quite adamant on taking a selfie with him. Midst picture session, the crowd starts chanting pro-Indian slogans including 'Bharat Mata Ki Jai' and others. Abhinandan declares that these pictures are not for them but for their families that he couldn't meet personally and showed his gratitude towards them who prayed for his recovery. Also mentioned to wish them «all the best» upon showing them his picture.
Plis.
'Brothers in air force motivated by his mere presence.' HAHAHAHAHA. Wait, HAHAHAHAHA.
Wing Commander Abhinandan is a hero in India. Just a glimpse of how brothers in Air Force and Army are motivated by his mere presence around amidst loud chants of Bharat Mata Ki Jai! ?? pic.twitter.com/Oq8n2DSILc

— Aditya Raj Kaul (@AdityaRajKaul) May 4, 2019
'The man who chased out Pakistani fighter jets' WHAT? WHEN? A DREAM PERHAPS?
Wing Commander #Abhinandan enjoying some moments with his friends and colleagues. The man who chased out Pakistani fighter jets and shot one down. I will not be giving location or date. @ThePrintIndia pic.twitter.com/akGPTWnBZ3

— Snehesh Alex Philip (@sneheshphilip) May 4, 2019
This is getting out of hand. I am in awe of their level of delusion. Whatever rocks their boat of self-importance.
It was overwhelming to see kids making him a hero. Adulation he was receiving was so much more deserving than the film stars or politicians. A REAL LIFE HERO.

It was amazing experience for me shake the hands of this real life Hero.

Cheers to you Wing Com. Abhinandan.
Jai Hind.

— Hemant Patel (@hemant_patel_ca) May 4, 2019
Clearly, they have forgotten and this tweet seems like a nice reminder.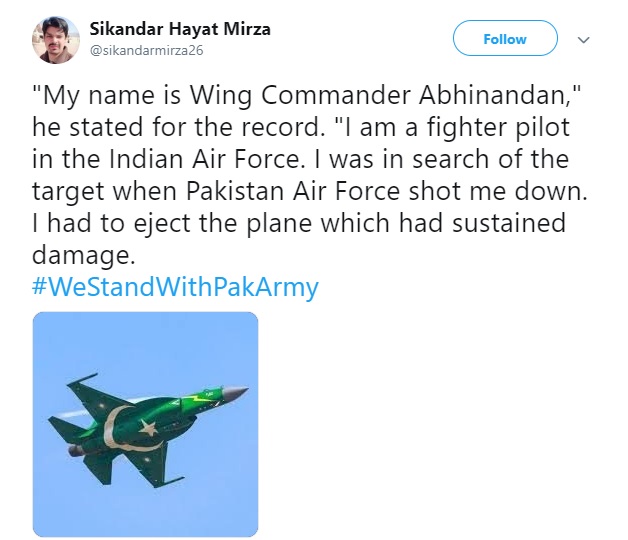 India couldn't even provide evidence of downing our F16 are somehow using that to make themselves look like victors but I am sure, deep down inside, they are just bitter and miserable over this humiliating defeat. Not to mention their low blow at the border when we handed Abhinandan over to India. Our treatment of respect wasn't reciprocated, in fact, they opened fire at the border. This is your real face India, and we feel sorry for you.