Memes, the trend that has taken over the internet, all over the world, are rejoiced and both cringed at by many. The art of morphing pictures, i.e photoshopping, as celebrated many, while others have been showed down on controversies that have emerged because of it.
Once such morphed/photoshopped picture became subject of a huge controversy, that took both India and Pakistan in its fold. Religion, as they say, is personal, and should not be joked about.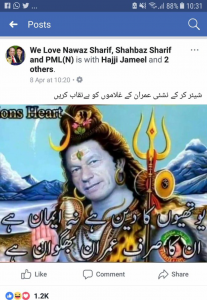 It is one of the most important teachings of Islam to not mock others' religion, just to make a few people laugh. One Facebook page that was in support of the ousted Ex-Prime Minister of Pakistan, called "We Love Nawaz Sharif, Shehbaz Sharif And PML(N)" went too far, when it posted a photoshopped picture of Imran Khan cross-playing as the Hindu 'Lord Shiva'.
The picture, which looks very real, as something out of a mythical Indian drama, stirred a huge storm between Indians and Pakistanis, Hindus and Muslims on its sensitive nature. The caption on the picture, too, was very offensive, which stated: "Youthiyon ka na deen hai na emaan hai, in ka sirf Imran Bhagwan hai" – which literally means that Imran Khan's followers follow him blindly, like following an Indian God. Repulsive!
Ever since the picture went viral, people on social media have denounced it, with many Hindu Pakistanis also rising to the occasion and speaking against it. This is what people had to say regarding the photoshopped picture.
If we are equal citizen in pakistan so what is this ? This is not in islam that. We want to take action against this. We are Pakistanis but first we are hindu. I requested to @AsimBajwaISPR @MaryamNSharif @ImranKhanPTI to take action ageist this facebook page pic.twitter.com/eQBEMHe3O1

— Kaidar Nath (@NathKAidar) April 11, 2018
Let us all condemn this cheap act by the PMLN cyber wing. They have hurt the sentiments of Hindu Pakistanis, who have equal rights and stake in this great country.

— Ali Rashid (@alirashidpak) April 12, 2018
This is not teaching of Islam…..Plzzz don't see Muslim,see the scripture of Islam…
If your RELIGION requires YOU to HATE a group of people because of their beliefs , You. Need A new Religion ….

— Meb Ansari (@MebAnsari) April 11, 2018
SHAME on PMLN cyber Wing,Pakistan.😡

Picture depicting Imran Khan ( cricketer turned politician) as Bhagwan Shiva goes viral, causes uproar in Pakistan's parliament. pic.twitter.com/VStDgIjOlh

— Anurag saxena (@saaxenanurag) April 13, 2018
Sir hamara religion ha hi bahut kamjor n bechara koi bhi kuch bhi kar Sakta ha, bol sakta, koi bhi sri Hanuman – Shiv ji ka get-up le k bheekh mang Sakta ha hum sirf social media pe iska mazak bante dekh sakte hain nothing else..

— Artist mode⏺ (@Artistmode1) April 13, 2018
hamare dharm ke log sirf dusre religion ko support krne me lge rhte h.. aisa agr hm krde kisi Muslim ke liye to turant atank macha denge

— #Hinduhoon# (@HinduHoon) April 14, 2018
#Pakistani Hindu community seriously and rightfully offended at PMLN's Social Media Team's (which is headed by Maryam Nawaz Sharif) portrayal of @ImranKhanPTI as Shiva! pic.twitter.com/wxESHW1RJY

— Aurora Borealis (@PropitiousOn3) April 13, 2018