Prime minister Imran Khan is on a visit to the Kingdom of Saudi Arabia, with the first lady. And some patwaris believe the first lady's ex-husband tagged along.
Did Khawar Maneka really accompany the first couple to Saudi Arabia? As absurd as it may sound. Some people actually believed it and they took to the internet to prove their point, without confirming the news. All kinds of below the belt comments were made in "Good Humor".
The fact that the month of Ramazan is going on and that Allah has prohibited spreading false news has no effect on the controversy lovers.
So, who's the guy in the picture?
The bearded man walking behind the prime minister is Sheryar Akbar, the Consul General of Pakistan in Jeddah. And the patwaris mistook him for Khawar Maneka, the ex-husband of the first lady. Frankly, if you see, the clear picture of the two guys don't even look alike.
Here's a comparison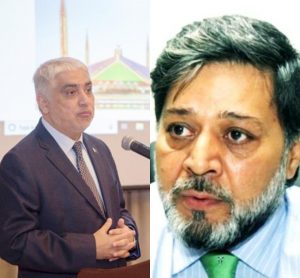 And he accompanied the former Prime minister Nawaz Sharif and his brother Shahbaz Sharif too, when they visited the Kingdom of Saudi Arabia.
But not many people confirmed the news, before enjoying the masala:
خاور مانیکا کے پاس کونسا حکومتی عہدہ ہے جو وہ مفت عمرہ کی سعادت حاصل کرنے سرکاری وفد میں شامل ہے
؟

— Kaifraza (@Kaifraz88535564) May 31, 2019
And the absurdity continued…
Without any confirmation, just based on a slight similarity between the Consul General Sheryar Akbar and Khawar Maneka, and everyone had something to say.
بھائی صاحب اس نے جو قربانی دی ہے، اس کی مثال موجودہ زمانے میں ملتی،

— S Zaman Gujjar (@S_ZAMAN_GUJJAR) June 1, 2019
پاکستان کے سوتیلے وزیرِاعظم ہیں ???

— logicator (@logicator94) June 1, 2019
نئے پاکستان کے لیے قربانی ۔۔۔

— ??زندہ دل پاکستانی (@SALEEM_JUI) June 1, 2019
Even a senior journalist Mubashir Zaidi responded on a "lighter note" to the drama
Unhon nay to naye Pakistan ki bunyaad rakhi thi https://t.co/7hZPQNCYKE

— Mubashir Zaidi (@Xadeejournalist) June 1, 2019
And when he was asked if the news is true, he responded within affirmative,
Ji

— Mubashir Zaidi (@Xadeejournalist) June 1, 2019
He later clarified that it was a comment made in light humor. It is evident by the statement that he believes it's okay to make such jokes on a social media platform. Ethically, our nation is going downhill. Be it discussing some one's personal life or making dirty jokes, everything is done shamelessly.
And somebody did point that out,
افسوس ہوتا ہے آپ جیسے صحافیوں پر۔۔
پھر جب لوگ آپ کو ذلیل کرتے ہیں اور آپ کے بیوی بچوں تک پہنچتے ہیں تو خدا کی قسم ہمیں افسوس ہوتا ہے۔ لیکن آپ کو ذرا سی بھی شرم نہیں آتی ۔۔
کس مٹی کے بنے ہو تم لوگ یار۔
اپنے آپ کو دانشور کہلواتے ہو۔
حد ہوتی ہے بے شرمی کی۔

— Rizwan Raza (@crisspyguy) June 1, 2019
And this guy who lectured Mubashir Zaidi on ethics
Waisey zaidi sb..u compel people to use foul language..that is below the belt juggat

u are not an anonymous troll..please act responsibly..dig out the truth and tell ur followers the actual story before trying to act like tariq teddy of journalists for few laughs..

— donno (@nogreatgame) June 1, 2019
Some clarified the news
بھائی اسمیں تو خاور کا ذکر نہیں ہے pic.twitter.com/O8MEFw0BRO

— Abdal Adil (@abdal_adil) May 31, 2019
And this guy who was deeply hurt and resorted to Bad-duas,
Allah ghaarat karay jhooton ko, no iss mahinay mai b baaz nai aye. Mohar lag chuki hai tum logon k dilon pe.

— Daisy (@Daisy1111111111) June 2, 2019
To Wrap it up,
Your words are the true reflection of your personality. So, even if you are dealing with an enemy do yourself a favor and play fair. Spreading false news and making suggestive, dirty, below the belt comments is unethical and an Islamic too.